Australian Osprey
Behind The Shoot
---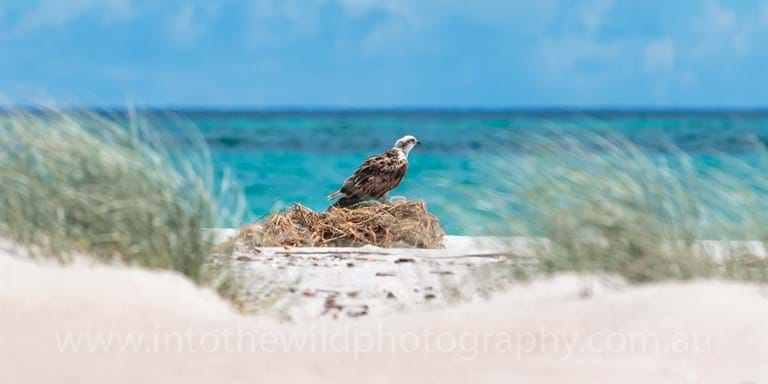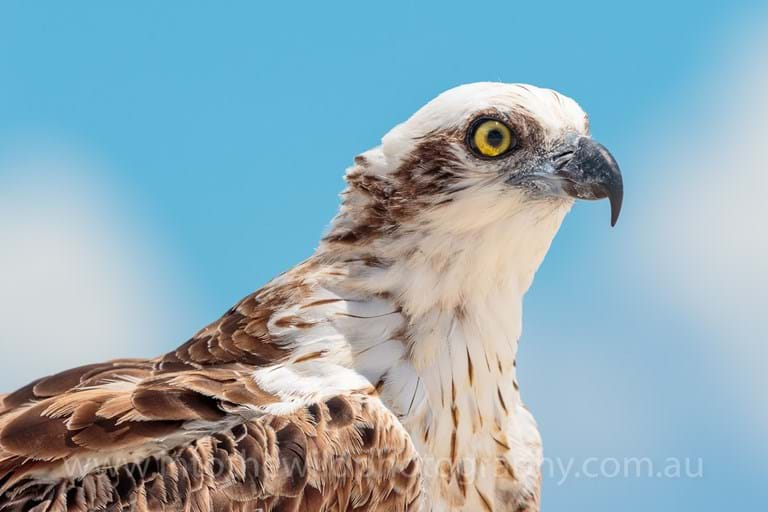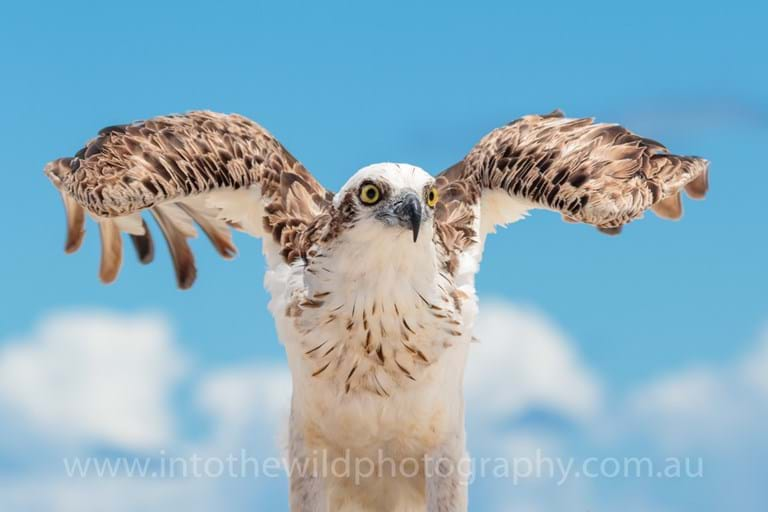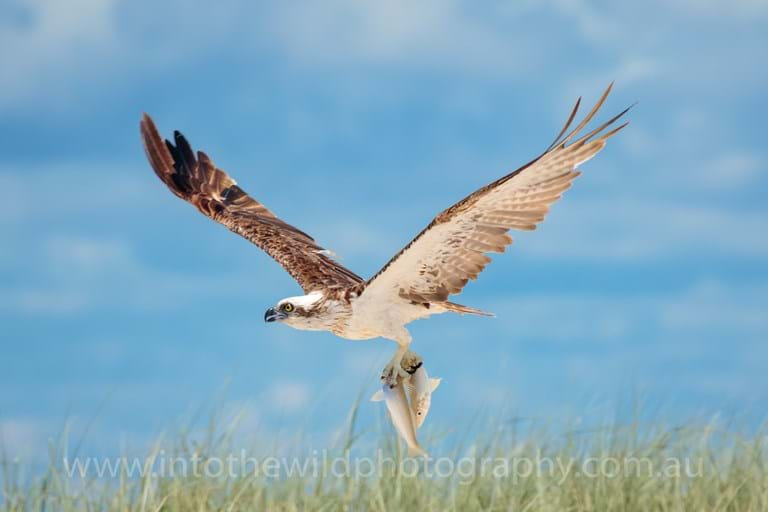 Welcome to the first Into The Wild Photography Behind The Shoot blog post! I figured this would be a great place to tell the stories of how I captured some of my images - and I might even include the exact settings/gear used for the shots :)
So to kick it all off, I'm going to start with my recent experience photographing an Australian Osprey on a little island in Hervey Bay.
Unfortunately, this trip was a failure! Honestly, I didn't achieve anything I set out to that day - but that's often how these things go. I had planned to photograph the Pelicans on Pelican Bank - a little sand island just off Moon Point, Fraser Island. We set off with a list of images in mind including some splits with the new underwater housing. As soon as we anchored just off the island, I spotted one of my all time favourite birds, sitting on a makeshift nest on the beach. An Australian Osprey. I'm not really a huge bird fan - definitely no twitcher - but these great predators have fascinated me for years. Thinking I'd just grab a few quick frames before it flew off, I grabbed the 7dMarkii and 100-400L series and slowly made my way to the beach (trying not to drown the camera in the waist deep water!). When photographing animals of any kind, it is best to make yourself small, stay quiet and move slowly. You have to be sensitive to the creature's body language and allow it time to learn that you are not a threat. The more time I spend with animals in their environment, the more I learn they can be just as fascinated with me as I am with them. Just have to take it slow.
So I decided to lie down on the scorching hot sand and move slowly forward on my belly if the Osprey accepted me. Using the Canon 7d Mark ii for wildlife photography gives me the added benefit of increasing the focal length of the lens by 1.6 times due to the crop sensor. This meant I was effectively shooting with 640mm of lens, enabling me to zoom in nice and tight. As I photographed the Osprey I noticed it was very calm, often completely ignoring me. So I moved in closer and closer. After 20 minutes, I was within perhaps 6 meters of this incredible creature and was able to fill the frame with just its head and chest. One of the most important things when photographing wildlife (or people!) is to always be aware of the background. It is a vital part of the image and just the slightest movement up, down, left or right can make a huge difference.
After lying on the hot sand in the middle of the day for nearly half an hour, I was getting roasted! I hadn't put any sunscreen on and was only wearing my boardies - amateur mistake! But I couldn't leave such an amazing encounter. Eventually, the Osprey started to stir and raised its wings - preparing for flight. At this moment, I knew the opportunity for great images would be at its peak so I increased the frame rate and thoroughly reviewed my settings. I chose to shoot these images in shutter priority mode with a shutter speed of 1/1000th of a second. Normally, I would check my exposure and lock it out in Manual but with the chance of the Osprey taking flight, I knew the exposure could vary as it flew past me - with different light on it and different backgrounds. Tv mode would compensate for this. I also chose Auto ISO so the aperture wouldn't open too wide reducing my chances of sharp focus due to an excessively narrow depth of field. I dialed in 2/3rds positive exposure compensation due to the bright conditions. Further to this setup, I also was shooting on high speed burst mode, AI Servo on back button focus, 5 focus points in the centre of the frame, and had set the lens image stabiliser onto setting 2 incase I need to swing the camera quickly as the bird took flight. While this setup was not necessary or ideal for the stationary Osprey, I knew that the magic would really happen when it moved and that is what I was anticipating.
Suddenly, I saw its muscles flex and its body language tense up - this was it! In a split second it took flight and I held down the AF button while keeping the focus points locked on the Osprey's head and squeezed the shutter. Short fast bursts are the key in this situation - at least if you are not shooting on the 1DX with a massive buffer! There is nothing more frustrating than watching the action unfold right in front of you and not being able to shoot as your camera is writing images to the card and the buffer is full!!
Elated, I dropped the camera from my eye and observed the incredible bird fly out and over the water. Standing, I thought that was that - time for me to go back to the boat and put on some sunscreen. Then I noticed the Osprey's head pointing down to the water and realised it was on the hunt! As it dropped from the sky, tucking its wings in, it picked up so much speed and slammed into the shallow water. I was too far away for clear images but focussed and shot a few frames, then began to follow it hoping it would fly closer with its catch. And that is exactly what it did, returning to the same "nest" on the beach - just metres from me. As it flew in to land, I locked focus on it and fired off several frames wondering what the poor fish was that it had caught. With it right in front of me I suddenly realised it was in fact two whiting - nailed with a single strike! I've seen Ospreys hunting on many occasions but to kill two fish at once was definitely a first for me. I shot a few more frames as it began to devour the first of its meal and then decided to let it eat in peace.
Thank you Mr Australian Osprey for such a magnificent experience.